NRAU Representatives
NRAU is composed of the following member societies:
| | | |
| --- | --- | --- |
| Society | NRAU Liaison | Liaison E-mail & President (equiv) |
| EDR | Arne | kontor@edr.dk & formand@edr.dk |
| FRA | OY3JE Jan Hammer Egholm | jan@vikmar.fo |
| IRA | TF3KB Kristján Benediktsson | tf3kb@vivaldi.net & jonas.bjarnason.hag@gmail.com |
| NRRL | LB7ZG Bjørn Myrvold | nrrl@nrrl.no & president@nrrl.no |
| SRAL | OH2BQZ Markku Toijala | oh2bqz@sral.fi & oh2ubm@sral.fi |
| SSA | SM6EAN Mats Espling | mats.espling@outlook.com & sm0hev@ssa.se |
Table updated as of: 29 March 2023
Note: Click on the Society's initials above for access to their national webpages.
Any changes or updates to this table to be forwarded to Webmaster.
---
Constitution
The NRAU Constitution may be downloaded here (PDF). This is the latest version following the NRAU e-meeting in September 2020,
---
Historical documents
In the minutes from the recent NRAU e-meeting in September 2020, the SSA have been able to dig out two historical and important documents related to NRAU. One is the actual statutes from 1936, the second being a post WW-II document posted in QTC no 7 in 1949, explaining both background and the way ahead for NRAU. Both documents are written in Swedish, and are photocopies of originals.
The two documents are:
Additionally, LA2RR Ole have provided two other documents, correspondence between NRAU and IARU related to NRAU's existense, obtained from the ARRL archives:
If other member societies have similar or other historical documents or data, please inform Webmaster.
---
Older news and webpage background
An interim NRAU webpage was launched by LA6IM Hans back in 2011, just prior to the NRAU meeting in Norway same year, to see if there was any interest in such a venue. Following that meeting, the layout has changed more times, and feedback is still very much appreciated.
Please note that contents will be amended/updated as required, or as requested.
Older milestones:
27 Mar 13: Hans / LA6IM have today transferred ownership of the NRAU domain (nrau.net) and relatad discussion forum to Stein-Roar (LA6FJA). Stein-Roar takes over as the new NRAU Webmaster and domain owner with immediate effect.

Personally I take the oportunity to wish you all best 73s, hoping that this domain still has some value to the Nordic amateur radio community, hi. 73s es gl, de Hans / LA6IM !

28 Feb 13: Webpages and discussion forum have been transferred to a new standalone webhotel. Plans are in progress to transfer ownership of the NRAU domain from LA6IM / Hans to LA6FJA / Stein-Roar. Users will be informed when executed.
02 Jul 12: The NRAU discussion forum is published, but not yet ready for registration – linked from the main menu
25 May 12: Released a translated draft version of the NRAU Constitution in English
15 May 12:
– Added events calendar
– Moved contents of former links menu to main menu
– Started editing NRAU contest details (NAC) on the calendar
– Minor tweaks to the "Upcoming events" module
14 May 12: Some internal tests will be performed in the coming weeks to see if it is feasable to implement NRAU and NAC Contest data and information on this domain
The 2011 IARU Region 1 Conference took place in Sun City, South Africa, between 12 to 19 August 2011. See the IARU Region 1 webpage for details and minutes. We would also like to congratulate SM6CNN / Anders Larsson with his election as a new member of the IARU Region 1 Executive Committee
The Nordic VUSHF Manager's meeting took place at Gjøvik between 3 and 5 June 2011. Normally this meeting should take place before the NRAU meeting, but this was not possible this year due to booking problems
The 2011 NRAU meeting took place at Haraldvangen, Norway, between 20 and 22 May 2011
---
Some images from Sun City 2011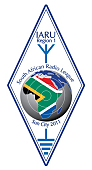 Some familiar NRAU members attending the IARU Reg 1 conference in Sun City 2011, as found in the photo gallery on the IARU Region 1 webpage: